Back Flushing Filter Elements
Description
Back flushing filter elements feature an inside and outside buckle hanging method, making installation and removal quick and easy. The bottom uses a powder leakage design, ensuring dust will not accumulate on the bottom and affect usage efficiency. A guide cone is installed inside the filter element, and directly uses compressed air to beat against the cone top to disperse dust collected there using an air dispersion. This filter element is most often used in spraying hardware industry, furniture dust recovery and other dust filtration.
Basic parameters
Filter material: High-density polyester fiber
Inner frame material: Galvanized steel sheet mesh
Weight: 240g/m2
Thickness: 0.65mm
Bearing weight: 5-6kg
Airflow rate: 120Lm2/sec
Filter precision: 8-10μm
Collecting efficiency/Filter precision: 99.7%/8-10μm
Powder recovery rate: 99.8%
Air resistance: 8.43mbar
Bearing temperature: ≤135℃
Tensile strength: Kgt/5cm MD126.5 CD73
Features of back flushing filter elements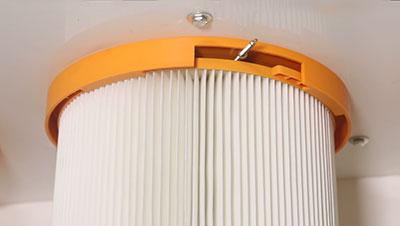 They use a top end cap hanging buckle installation. Assembly or disassembly takes only several seconds, thus saving time.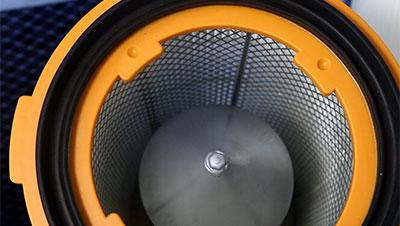 They use a high-strength galvanized steel as the filter support cage, which extends the service life up to 5 months longer than common filter elements.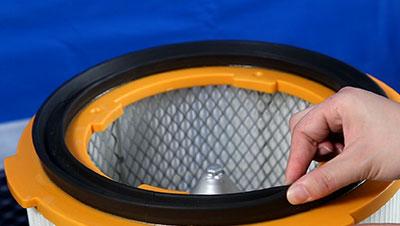 They use Xin Huan Bao inflatable sealing rings which have a better sealing performance than traditional solid sealing rings. These filter elements can be assembled and disassembled simply by inflating or deflating the sealing rings with no need for installation or removal of screws.
Custom Back Flushing Filter Elements
You can directly choose from the above displayed back flushing filter elements. If you have any specific demands for filter element size, installation method and surface treatment method, please contact us in time and Xin Huan Bao will provide you with custom service for back flushing filter elements.
If you want to customize other types of filter elements such as flame retardant fiber filtration, stainless steel cartridge filter elements and water and oil repellent cartridge filter elements, you can enter custom page, see custom instructions and provide us with necessary information.