Spun bond Polyester Cartridges
Spun bond polyester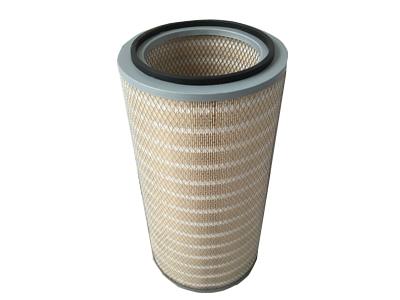 Spun bond polyester is sturdy and durable, and it also has corrosion resistant and moistureproof properties so that it won't be affected by bad moisture environment when temperature is below 180℉ or lower. Besides, this material can be easily cleaned. After simply washing, it can be used as new.
The filter cartridges of Xin Huan Bao are made of 100% spun bond polyester and they are designed with folds, which can increase filter surface area to the greatest extent. We can make processing treatments on the filter cartridges according to your demands such as sintering, bonding with PTFE membrane and we can also carry out antistatic treatment to eliminate static electricity.
Spun bond polyester cartridges are suitable for dust removal in pharmaceutical industry, mineral processing and metal processing sites.
If you need spun bond polyester cartridges, there are many optional sizes and we can also customize suitable installation method for you according to your requirements.
Parameters
Material
100% Polyester filament
Weight
270g/m2
Structure
Nonwoven, Spunbond
Air permeability
15.5cc/m2/sec @ 125Pa
Bursting strength
20.1Kg/cm2
Tearing strength
Transverse
102Kg (X direction)
Longitudinal
165Kg (Y direction)
Shrinkage rate
@135℃ * 8Hrs
Transverse
0.1Max.%
Longitudinal
0.6Max.%
Pressure drop
141.3Pascal
Filter efficiency
0.3-1.0μm
48.50%
1.0-2.0μm
87.00%
2.0-5.0μm
96.80%
>5.0μm
100.00%
Pore size
Minimum
12.9μm
Average
17.3μm
Custom Spun Bond Polyester Cartridges
You can directly choose from the above spun bond polyester cartridges. If you have other demands for size, reinforcement method or surface treatment method, please contact us in time and our professional staff will provide you with custom service for spun bond polyester cartridges.
If you want to customize other types of filter elements such as stainless steel cartridge filter element, flame retardant fiber filtration and laminated cartridge filter element, you can enter custom page, see instructions and provide us with necessary information.