Pleated Filter Elements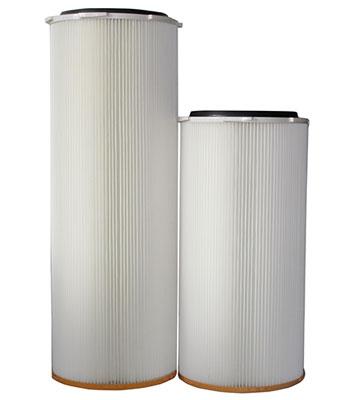 The design of pleated filter elements replaces the one of traditional filter bags. Pleated design can increase the area of filter medium to 5-10 times as big as that of traditional bag filter elements, which solves the air volume problem of bag filter by increasing filtering area.
Xin Huan Bao filter elements can adopt many kinds of materials such as spun bond polyester, PTFE membrane, non-woven fabric and polyester fibre. You can also choose pleat amount and pleat depth according to your requirements.
If you have requirements for pleated filter elements, you just need to provide corresponding information such as dust property and demands for air quality. We can provide you with any much-needed technical advice so that you can choose suitable pleated filter elements.
Our pleated filter elements have many optional sizes and installation methods to adapt to most standard dust removal equipment. Therefore, in most conditions, you don't have to replace existing dust collecting devices.
Custom Pleated Filter Elements
You can directly choose from the above displayed pleated filter elements. We can also satisfy your requirements for filter element size, surface treatment method and other aspects, and will provide you with custom service for cellulose filter cartridges.
If you want to customize other types of filter elements such as spun bond polyester cartridges, cellulose filter cartridges and laminated cartridge filter elements, you can enter custom page, see custom instructions and provide us with necessary information.