Filter Cartridge Rotary Cleaner
Application
Filter cartridge rotary cleaners are back flushing devices designed to match with filter elements with an outer diameter of 325mm and inner diameter of 190-220mm.
600mm high rotary cleaner: Suitable for single 600mm and 600mm high filter element.
900mm high rotary cleaner: Suitable for single 900mm high filter element.
1.2m rotary cleaner matched with AB combination filter elements ( two 600mm filter elements overlapped).
Features of rotary cleaner
All the parts of the back flushing rotary cleaner are made of aluminum die-casting alloy.
The back flushing rotary cleaner is composed of upper and lower sealed bearing devices supporting two nozzle tubes, the sizes of which are matched with the inner diameter of the filter elements.
A pressure source with certain flow rate will instantaneously burst to the surface of filter cartridge fiber in order to shake out the dirt and clean the filter cartridges.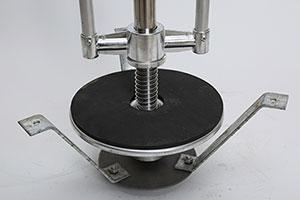 Working principle
The rotary cleaner naturally rotates in a high-pressure airflow and its operation is controlled by a pulse stroke. A special rotating wing beats the filter element under a pulse stroke and the rotating rod rotates under a pulse stroke. Powder will be recycled by back flushing airflow, which can reduce waste and save cost.
Upgraded rotating wing without bearing
For rotating wings with a bearing, the bearing will get stuck when there are large powder amounts. We have upgraded to rotating wings without bearings, thus eliminating this problem, and makes it easier to use this equipment with less downtime for repairs needed.